Apples to Grapples
is an HTF Break.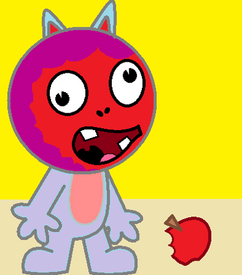 Roles
Starring
Plot
At the snack corner of a movie theater, Hippy buys an apple. He takes a big bite out of it, causing crumbs to stick on his face. He tries taking them off, but it rips his face off. He dies of blood loss and faints to the ground. The apple says "HTF reak" (the B was bitten out of it), and reak is crossed out with "is dead!" over it.
Deaths
Hippy dies of blood loss after accidentally ripping his face off.
Trivia
This is the first HTF Break that Hippy stars or appears.
The title is a play on the popular childrens game, Apples to Apples.
Ad blocker interference detected!
Wikia is a free-to-use site that makes money from advertising. We have a modified experience for viewers using ad blockers

Wikia is not accessible if you've made further modifications. Remove the custom ad blocker rule(s) and the page will load as expected.