Blushy is a Crossover character based on Angry Birds game.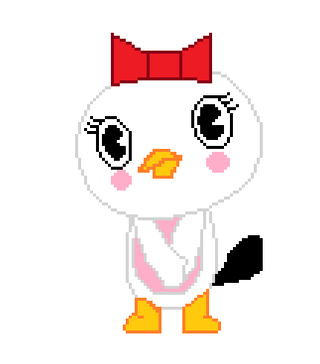 Character Bio
Blushy is a white chicken who is Matilda's little sister. She has pink cheeks and a red bow and she was also shy from other birds.
Trivia
She is a first chicken who wears a bow.
She was often mistakingly for being saying that she is Matilda's girlfriend because other fans of Angry Birds say that she is Matilda's girlfriend.
She was not been named Blushy in Angry Birds Game and some fans of Angry Birds say that her name is Tiny but the name "Tiny" is very unofficial name.
She was a lot of background appearances in Angry Birds Seasons game in Valentines Day.
Ad blocker interference detected!
Wikia is a free-to-use site that makes money from advertising. We have a modified experience for viewers using ad blockers

Wikia is not accessible if you've made further modifications. Remove the custom ad blocker rule(s) and the page will load as expected.