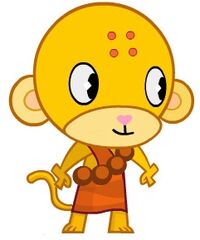 This is a page in a fanon site. For information about this character from the actual show, click here.
Buddhist Monkey is a special character in the Happy Tree Friends series and a main character in the spin-off, Buddhist Monkey vs. Flippy.
Character Bio
Buddhist Monkey seems to flip-out in a manner that can be compared to Flippy. He has his own spin-off show called Buddhist Monkey vs. Flippy, where him and Flippy brutally murder one another. He also seems to be very sensitive.
Episode List
Starring Roles
Featuring Roles
N/A
Appearances
Kill Count
Sniffles- 1 (Swordfish of the Stone)
Flippy- 1 (Swordfish of the Stone)
Gallery
Ad blocker interference detected!
Wikia is a free-to-use site that makes money from advertising. We have a modified experience for viewers using ad blockers

Wikia is not accessible if you've made further modifications. Remove the custom ad blocker rule(s) and the page will load as expected.