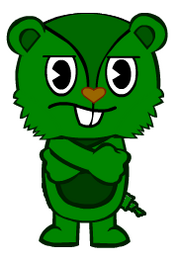 Bulky is a scruffy green glyptodon. He is Peppery's cousin and takes pride in the pain of others, as his name, which originated from "bully", would suggest. He is partially a parody on Bulkhead from the Transformers Animated series.
Starring Roles
Featuring Roles
Appearance Roles
Deaths
With a Grain of Malt: Strikes a match that lands on a leaking grill that then explodes and sends him flying. (debatable)
Spaced Out: Gets a steadily growing dehydrated tablet in his mouth that grows until his jaws get ripped off.
Brick by Brick: Impaled by a steel rod.
Nuttin' Wrong With Candy: His head is cut off by a vending machine rack.
Death and Taxis: Killed in an explosion.
Nerds United: Head cracked open.
The Tenacious Ten - Blown up by inflatable raft.
Revenge of the Porcupine - Stabbed by Flaky's quill.
Call of Pony: Mane Warfare - Shot multiple times.
Just Beak-cause - Impaled by Pierce's quills.
Fan Considered Theme Songs
Scream by Avenged Sevenfold (song is about the pleasure of killing, Bulky enjoys the pain of others)
Ad blocker interference detected!
Wikia is a free-to-use site that makes money from advertising. We have a modified experience for viewers using ad blockers

Wikia is not accessible if you've made further modifications. Remove the custom ad blocker rule(s) and the page will load as expected.