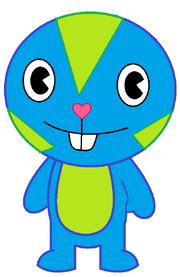 Burty is an unknown animal or alien. He works as a clerk. He usually remains quiet, though is easy to get along with.
Description
Burty is a blue creature with a green pattern on his head. He has no ears or tail, proving he may be an alien. He has a green chest marking.
Deaths
TBA
Trivia
Burty has more pictures than appearances.
Burty is an original character created by deadlydark.
He looks similar to Atlas because they are both colored like a globe.
Gallery