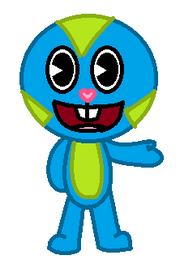 Burty
is a fan character. He is very energetic and sociable.
Description
Burty is a blue creature with a green pattern on his head. He has no ears or tail, proving he may be an alien. He has a green chest marking.
Deaths
TBA
Trivia
Burty has more pictures than appearances.
Burty is one of the first characters made by the creator.
He looks similar to Atlas because they are both colored like a globe.
Gallery
Ad blocker interference detected!
Wikia is a free-to-use site that makes money from advertising. We have a modified experience for viewers using ad blockers

Wikia is not accessible if you've made further modifications. Remove the custom ad blocker rule(s) and the page will load as expected.