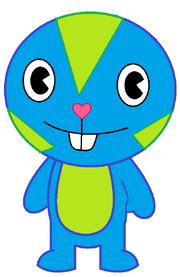 Burty is an unknown animal or alien. He is a clerk at a store where
CJ
 goes to.
Description
Burty is a blue creature with a green pattern on his head.
He has no ears or tail, proving he may be an alien. He has a green chest marking.
Deaths
Snare (Killed offscreen) ( Confirmed/ Permanent/ Death not seen)
Trivia
Burty has more pictures than appearences.
Burty is an original character created by deadlydark.
He looks similar to Atlas because they are both colored like a globe.
Gallery