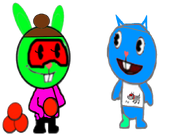 Cheese and King are characters made by MagicMasterBilly, and given to Yellow Spider Kitty.
Bio
Cheese
Cheese is the gender swap of Cream. She is green, with a brown bun, electronic eyes, pink shirt, black pants, and often holds pies... She loves fashion, furbys, and ROBLOX... She plays a piano...
King
King is the gender swap of Queen. With flat hair, a toothpaste-colored leg, and a shirt with Woofbot on it, he will try to avoid Ancient Noobs. He plays drums really great...
Episodes
Starring
Trivia
Cream and Cheese's relationship puns the spread, Cream Cheese.
King and Queen's relationship mentions royalty, which was a form of ruling in Medieval Times.
As of Season 84, Cheese and King are made cousins of Cream and Queen, rather than just gender swaps.
Ad blocker interference detected!
Wikia is a free-to-use site that makes money from advertising. We have a modified experience for viewers using ad blockers

Wikia is not accessible if you've made further modifications. Remove the custom ad blocker rule(s) and the page will load as expected.