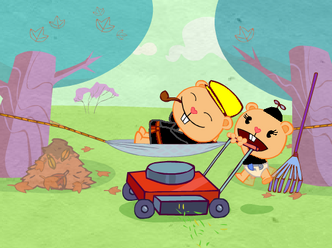 Chip Off the Ol' Block is an episode.
Starring Roles
Appearances
Plot
In the beginning, it shows Mom relaxing on a hammock while Baby mows. Baby happily hops as she mows into a brick. Baby goes underneath and tries to get it out. Mom checks on her daughter when she screams, and runs up to Baby. Mom gets out the brick and tosses it back. Superspeed is driving by where the brick busts through his window and causes him to crash and has his organs smashed out on a tree. Mom then puts Baby on the hammock and tells her to stay. Mom begins to mow, where she runs over some glass. The glass impale Baby, causing her to fall out from the hammock. Unknowingly, Mom runs over her daughter, slicing Baby into pieces.
Deaths
Superspeed's organs are smashed out.
Baby is killed by the lawn mower.
Ad blocker interference detected!
Wikia is a free-to-use site that makes money from advertising. We have a modified experience for viewers using ad blockers

Wikia is not accessible if you've made further modifications. Remove the custom ad blocker rule(s) and the page will load as expected.