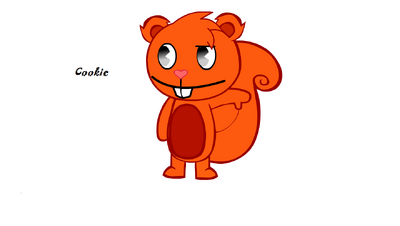 Cookie is an orange flying squirrel made for a friend of the creator.
Character Bio
Cookie, the orange flying squirrel obviously loves cookies and is a fan and friend of Splendid. Cookie has a secret second life that he does not want anyone knowing. Cookie sometimes does not like his life at the point when something bad happens to him, which can cause him to kill himself. He did that only twice. Cookie is a bit of a "nut-case" as well. Cookies claims he can communicate with cookies (explaining his name). Cookie also has a huge phobia of needles, and screams when he sees anything that looks like a needle.
Roles
Starring
Featuring
Appearances
TBA
Number of Kills
Deaths
Havinaball: Crushed by Applejack, who is in a gurney.
Splendidn't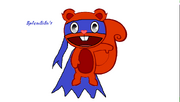 Name: Splendidn't
Gender: Male
Animal: Sugar glider
Color: Dark leaf orange
Trivia
It is still debatable and uncertain whether Cookie will have a crush on Ziggles or not.
There is a rejected HTF character who is also named Cookie (as shown in the commentary section of First Blood DVD). Cookie, in that commentary, is a sloth who works as a chef.
Ad blocker interference detected!
Wikia is a free-to-use site that makes money from advertising. We have a modified experience for viewers using ad blockers

Wikia is not accessible if you've made further modifications. Remove the custom ad blocker rule(s) and the page will load as expected.