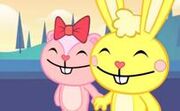 Cuddles/Giggles is the canon, or official, Happy Tree Friends couple. Cuddles and Giggles have expressed their love for each other in various episodes, including "Flippin' Burgers", "I Nub You", and "The Carpal Tunnel of Love". They have also been seen together in various fan-made music videos. In the episode "Remains To Be Seen" they are shown kissing even after being turned into zombies. This is one of the lesser loved couplings in the HTF series because it is so simple. However it has not been denied that these two are a cute couple, and they are perfect for each other.
Fan considered songs
First Date by Blink 182 (They are two of the first four characters. First date, get it?)
Gallery
Source Links
Ad blocker interference detected!
Wikia is a free-to-use site that makes money from advertising. We have a modified experience for viewers using ad blockers

Wikia is not accessible if you've made further modifications. Remove the custom ad blocker rule(s) and the page will load as expected.