Flicky is a green/red bear/porcupine. She is the daughter of Flippy and Flaky. She is very shy and someti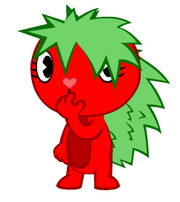 mes hides from others when spotted.
Description
Flicky is the daughter of Flippy and Flaky. Suprisingly, she doesn't flip-out (though she is easily angered). Since she is new, she doesn't appear much in the series. She appeared in Gabrieltnzpinkbird25's Take Your Seat episode.
Friends
Ad blocker interference detected!
Wikia is a free-to-use site that makes money from advertising. We have a modified experience for viewers using ad blockers

Wikia is not accessible if you've made further modifications. Remove the custom ad blocker rule(s) and the page will load as expected.