Flowy or Flowy Bello[1] is a fan character.
Character Bio
Flowy is a bashful, introverted porcupine who loves to take care of the enviroment. She's very awkward in social situations, so she usually stays inside at the warmth of her house. Her favourite place to visit is forests, because she doesn't usually run into people, and she can take care of the nature there. Flowy really wants to become a vet, but her inability to cope in social situations makes her unable to do so. When Flowy is uncomfortable or scared, she rolls up into a ball, which can cause others to impale themselves on her quills.
Deaths
Flippin' Burgers (Rex Version) - Killed when the burger place explodes
Match of the Day - Dies in explosion.
Smoochie 1: Chokes on peanut butter.
Smoochie 2: Mauled by dogs.
Smoochie 3: Splatters in a airplane.
Injuries
Match of the Day - Skinned while falling down chimney.
Kills
Bowser - 1 ("Off The Hook (New Version")
Buzzles - 1 ("To Fear or Not To Fear")
Fireball - 1 ("To Fear or Not To Fear")
Mime - 1 ("Tornado of Fates")
Cuddles - 1 ("Tornado of Fates")
Xana - 1 ("Tornado of Fates")
Mr. Pickles - 1 ("Tornado of Fates")
Starring Roles
Featuring Roles
Appearance Roles
Trivia
Flowy was first going to be named Flowers, but the name was never used on her.
She is the only brown porcupine that is a flaky-sue so far.
Gallery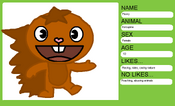 Click here to view this page's gallery.
References