Character Bio
Fuddles is a pink rabbit. Fuddles is a character full of many mysteries. That's why people wonder about Fuddles. She wears a crown and likes pretending to be a princess. She has a crush on Puffy.
Fuddles' Episodes
Starring Roles
Featuring Roles
Appearances
Deaths
Better Early Than Ever - Cut by paper.
Brain Freezy - Faints and dies.
Need A Bath? - Ran over by Flicky's car.
Muddling with the 'Uddles - Killed by glass bottle.
The Frog Prince...Guy - Collides into rock.
We Rule More Than You - Crushed by a fort.
Face Closed - Decapitated by Lustly prior to episode.
Heating Heart - Crushed by the electric fireplace.
Trivia
Gallery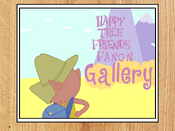 Click here to view this page's gallery.
Ad blocker interference detected!
Wikia is a free-to-use site that makes money from advertising. We have a modified experience for viewers using ad blockers

Wikia is not accessible if you've made further modifications. Remove the custom ad blocker rule(s) and the page will load as expected.