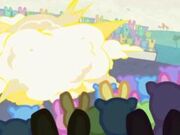 The Generic Tree Friends are canon characters that appear throughout the series. They aren't main characters, but are more of background characters.
Appearance
TBA
Character Bio
Generic Tree Friends may take on many personalities, especially because a Generic Tree Friend can be a minion, a ninja, etc.
Friends/Allies
Enemies/Rivals
Episodes
Starring
Featuring
Appearances
Fates
Burning Bridges: Die when the bridge collapses.
Puffing Paint: Seen dead when Grunts murders Pierce, RoboStar and Superspeed.
I Thaw That Coming: May have been killed by Grunts off-screen (debatable_
Thundering about You: Numerous die from smoke inhalation.
Finger Sliced: Swëder executed The kidnapper by using a knife.
Ariel Life: Thousands die from a meteorite.
Ad blocker interference detected!
Wikia is a free-to-use site that makes money from advertising. We have a modified experience for viewers using ad blockers

Wikia is not accessible if you've made further modifications. Remove the custom ad blocker rule(s) and the page will load as expected.