HTF Digiter

Logo for the program.

Sprites

47

Bases

46

Accesories

58

Face Items

134 (Estimate)

Body Items

64

Hair Items

24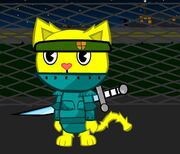 Zolrac's HTF Digiter is a doll-maker type of tool. It's generally used for creating characters. The secondary use of this tool is easy-creating art.
Editor modes
Full Project (on it it says Full Proyect): Allows you to create characters, as well as adding objects and a background.
Only A Character: Allows you to create your own HTF character from scratch with the help of provided body parts and accessories.
Only A DT: This comes with a set of four base characters, each having a different pose. In short, it's more like the base for HTF character creation.
BG Editor: You can edit a background by adding objects. You can select different kinds of backgrounds provided by the program.
Panels
These panels can be seen during your project.
Library: Contains the necessary body parts and accessories for character creation. Backgrounds and other objects can be found there too.
Color in use: You can choose colors here.
Offset color RGB edit: Adjusts the color your using via RGB method.
Properties: You can rotate an object and adjust an object's size and position (those menus don't seem to work). You can also switch between editors, only for you to start over.
Notes: It only shows text. You can put your own note there.
External library: You can import sprites from a different library outside the program. It must be in DH format, though.
Old tools: Basic tools, which are:

Erase tool: Removes an object from the workspace.
Mirror tool: Flips an object horizontally.
Rotate tool: Allows you to rotate an object.
Explorer tool
Two color tools (both names are covered): The first one brings out the RGB edit panel, while the second one allows you to color in.

Panels: Brings out other panels. The menus are:

Color in use panel: Brings out the Color In Use panel.
Clock panel: Shows the clock.
Keyboard panel: Shows a list of keyboard shortcuts.
Notes panel: Shows the Notes panel.
Character panel: Makes Fran, the character shown during the loading screen and before you start your project, appear. You can drag him around.
Properties panel: Brings out the Properties panel.

Trash bin: You can remove an object from the workspace by dragging it into the trash bin.
Trivia
This program contains many grammatical errors.
Many people have criticized this program for limiting the artist's creativity on creating HTF fan characters, due to its limited body parts and accessories.
Ad blocker interference detected!
Wikia is a free-to-use site that makes money from advertising. We have a modified experience for viewers using ad blockers

Wikia is not accessible if you've made further modifications. Remove the custom ad blocker rule(s) and the page will load as expected.