This is a new spinoff made by
RandomzSunfish23901
. The show centers around insects, obviously. All of the insect characters are the size of real insects.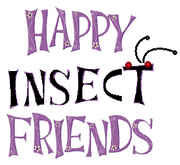 The show was made due to the creator's interest in insects. Since all of the characters are small, it would cause for many hazards (getting crushed, drowning, being eaten, etc). Most of the characters are insects, but a few are arachnids and isopods.
UPDATE: I won't be adding anymore characters as of yet. Be sure to actively check this page to look for updates.
Characters
Protagonists
Antagonists
Honorary and Ex-Insect Friends
HIF characters who are also part of the regular cast (H). Some started out as HIF characters but were removed from the main group (X).
Introduction
The episodes start out like the original HTF episodes, except the music is only comprised of drums to sound like the HTF main theme song. Occasionally, insect skittering is heard. The characters appear behind a large stick in different ways. Then the episode starts.
Episode List
Season 1
Season 2
Season 3
Trivia
It was made due to the creator's interest in insects.
Most of the characters are based off of a character from the canon series.
Several characters existed before HIF was made. Before then, they were (and some still are) part of the regular cast.
Ad blocker interference detected!
Wikia is a free-to-use site that makes money from advertising. We have a modified experience for viewers using ad blockers

Wikia is not accessible if you've made further modifications. Remove the custom ad blocker rule(s) and the page will load as expected.