Welcome to Happy Tree Friends Fanon Wiki!
Happy Tree Friends Fanon is the fan fiction wiki that allows YOU to create, write, interact, and much MUCH more! Remember to have fun and keep things nice and fair, alright? Well...what are you waiting for? Start creating!
Featured Character
This month's featured character is...Raymond!

Raymond is an elephant seal who likes playing the piano. He is friends with Sniffles, Josh, Kibble, and Bella. He is also from New Zealand. He often carries a piano how he thinks is alive (it's not a killer any more) and a Twilight Sparkle doll. He is shown to be a fun loving Guy and enjoys the world around him. He also is shown define the laws of physics in gravity sometimes. His deaths involve sharp things.

Wanna decide next month's featured character? Now you can! Click here!
Polls
Are you excited about the new HTF movie coming out?
Do you think we should change the current color theme (purple/pink)? If so, then what should it be changed to?
Top Editors
Meet...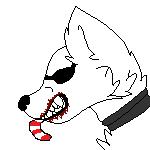 GlitchSwift!
GlitchSwift (or Sophia) is a current user here on Happy Tree Friends Fanon Wiki. Despite being a brand new user on the wiki, Glitch has already received an edit count of over 200! She has also proven herself to be very talented artist!

To learn more about GlitchSwift click here.

Click for another top editor!