Home
Talk

16
8,191pages on
this wiki
Welcome to Happy Tree Friends Fanon Wiki
Happy Tree Friends Fanon is the fan fiction wiki that allows YOU to create, write, interact, and much MUCH more! Remember to have fun and keep things nice and fair, alright? Well...what are you waiting for? Start creating!
Featured Character...

This month's featured character is...
Vanilla!
Vanilla is a pale-yellow wolf with a darker-yellow tail tip. She has long, black hair, a dark blue hoodie with the hood down with a dark red pocket and tassels, and dark brown pants. She is very stupid and easily confused, although is not as dumb as Lumpy. Despite being 13 years old, she acts mentally much younger, and some others mistake her being younger. If she is confused, she will usually say, "....I don't get it."
Wanna decide next month's featured character? Now you can! Click here!
Polls
Who's your favorite character that appears on the wiki's banner?
Now that Christmas is over, whatcha' got planned for new years? :)
Top Editors
Meet...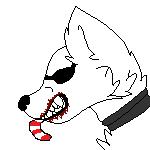 GlitchSwift!
GlitchSwift (or Sophia) is a current user here on Happy Tree Friends Fanon Wiki. Despite being a brand new user on the wiki, Glitch has already received an edit count of over 200! She has also proven herself to be very talented artist!

To learn more about GlitchSwift click here.

Click for another top editor!