Home
Talk

16
7,765pages on
this wiki
Welcome to Happy Tree Friends Fanon Wiki
Happy Tree Friends Fanon is the fan fiction wiki that allows YOU to create, write, interact, and much MUCH more! Remember to have fun and keep things nice and fair, alright? Well...what are you waiting for? Start creating!
Featured Character...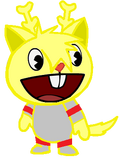 This month's featured character is...
Lime!
Lime is a 14 year old light yellow unknown animal. He is a good and happy character who has befriended many other characters in the series. He has antlers, a dog tail, wolf ears, a red nose, and a Hole in the Wall participant outfit (red team). He likes to dance, listen to music (just from the DDR games), play the piano (music from DDR games only), play rhythm games (again, only DDR games, including the ones released on PC). He has a lot of favorite songs, about 130 songs. The problem is that if he wins in the game, he can end up fainting and have seizures.
Wanna decide next month's featured character? Now you can! Click here!
Polls
Who had the best theme on the second soundtrack?
Christmas is coming! What are you planning on doing?
Top Editors
Meet...
Emilioalzamora20!
Emilioalzamora20 (or simply Emil) is a frequent editor here on Happy Tree Friends Fanon Wiki. Confident and always shares his love for Happy Tree Friends, Emil has been known as one of the more unique users on the wiki! He is also the creator of the mildly popular fanon character, Lime!

To learn more about Emilioalzamora20 click here.

Click for another top editor!