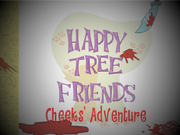 Happy Tree Friends: Cheeks' Adventure is a series lifted from a fanfiction created by a dA user inovationhtf. It's a story about the collapsing Happy Tree Town due to numerous bad tree friends that inhabit the town, annoying others, and even starting a battle on their own. Cheeks (Htfaddons' OC) and Flaky are the main characters in this spin-off. The series' episodes are called chapters, which are 1-4 minute shorts. Currently, HTF: CA has 5 chapters.
Series Characteristics
The spinoff still reuses the original characters like Flaky, Sniffles, Flippy, and many others. However, the main character here is a fan character named Cheeks. Other fan characters also appear in several chapters of this series. The show's layout is always dark and gloomy, to strengthen more of the ruined town theme, as well with the timeline which is always night time (the sky color constantly changes however). The tree friends speak clearly in this spinoff.
Each time the intro starts, it started off as a static to add horror-like feel. Then, the title card appears, which looks like the original, but dark and has blood smears and a knife with blood hanging on the top. After that, the static appears again, showing the episode's title in blood in the mid of static, then the episode starts. The use of music is very rare in this series, just to add more silent or ambient condition to the show.
Characters
So far, 8 characters have appeared in this spinoff (including fan characters). This will add more if new chapters are released.
Diamond (Htfaddons' another OC)
List of Chapters
Ruin Town: Cheeks had just came back from Russia, her original hometown. To her surprise, Happy Tree Town is no longer the usual town she last visited. First appearance of Cheeks and Flippy.
Flaky: After getting told by Flippy about the town, Cheeks goes off into the town park only to find Flaky shivering unlike the usual. First appearance of Flaky.
The Time Machine: After cheering up Flaky, the two of them decided to go to Sniffles' house to perform a plan to fix the town from the annoying tree friends. First appearance of Sniffles.
A Mutant Tree Friend: The attempt of time traveling was a failure so they have to make another plan. Cheeks and Flaky go out for more information while Sniffles is making another invention as part of their plan. The only appearance of Diamond.
Brotherly Friends: Cheeks and Flaky encounters Lifty and Shifty, and had hard time to trust them.
Ad blocker interference detected!
Wikia is a free-to-use site that makes money from advertising. We have a modified experience for viewers using ad blockers

Wikia is not accessible if you've made further modifications. Remove the custom ad blocker rule(s) and the page will load as expected.