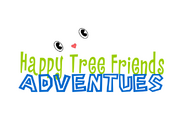 Happy Tree Friends Adventures Series is a planned animated series created by radel999 on deviantART. The series is based on his fan game of
the same name
.
Not much is known about this series, as only the opening and few artworks are the only proof that the series is still in progress. Radel999 also stated that each episode will be 30 minutes. But still, no episode has been produced yet. However, the only confirmed episode on planning is "Pete the Genius".
Because the series is based on the game, almost everything based on the game is featured there.
Known featured characters
Cuddles
Flaky
Petunia
Nutty
Giggles
Toothy
Bowser
(There are actually a lot more characters mentioned here, but some of them won't be mentioned here to avoid issues)
STITCH62633's episodes
The person who made Welcome to HTF Land and Flippy! made her own episodes (all in anime style) for that spinoff.
List of episodes:
Welcome to Happy Tree Kingdom
A First Journey
Trivia
The title has the "Adventures" misspelled as "Adventues".
Despite only showing the opening, it already gained horribly low rating by deviantART users. It is possible because of these factors:
The theme song playing throughout the opening. The song is in Japanese despite HTF being a western show.
The (obviously) title screen of the series, with the "Adventues" part.
The opening is too long for a HTF fan series, being the same length as an anime opening.
The crossover idea, which not many people like.
(Possibly) Lack-of-blood idea shown in the opening.
Canon HTF characters are shown OOC (out of character).
After radel999 read the review, he will plan:
A better quality of animation.
Blood scenes.
New music (he must get suggestions).
And more fan characters.
Ad blocker interference detected!
Wikia is a free-to-use site that makes money from advertising. We have a modified experience for viewers using ad blockers

Wikia is not accessible if you've made further modifications. Remove the custom ad blocker rule(s) and the page will load as expected.