This is a list of fan-made episodes of all kinds.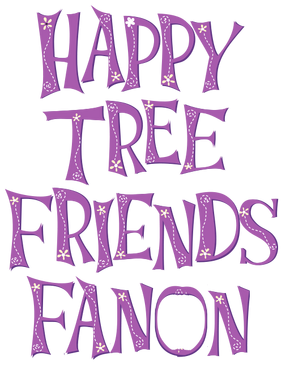 NOTE: Do not include plagiarism from other shows, as these will face deletion.
Series overview
These are the main episodes in the series.

Arc 1: Blood and Guts
Blood and Guts is the first arc of the series lasting a total of 50 seasons, that ended with "Enough is Enough" The number of episodes changed from beginning (around 10-20) to end (around 30-40), and so has the artwork.
Arc 1 was completed in February 2014. According to Waterclam, the ultimate DVD set will be released during the making of Season 51 with the complete first arc.
Arc 2: Return of the Gore
Return of the Gore is the second arc of the series with a planned hopeful total of 50 seasons, which is began after Season 50 ended. In the middle of Arc 1, there was a poll asking what people want in Arc 2, with "something extreme" winning.
This arc is still going on.
These are irregular episodes that are not listed in seasons for some circumstances. Most Crossover Episodes count as being such.
Shorts
Short episodes of Happy Tree Friends which are around one minute-long.
Shorts about two characters (male and female) on a romantic date.
Basically short episodes, at most one-minute long.
Christmas-themed short episodes.
DVDs
See List of DVDs for more information
Spin-offs
For all spin-offs, see here...
Fan Version episodes
These are fan-made revisions of episodes from the actual series. See them here...(Or here)
Trivia
Early seasons would only have around 15-20 episodes. But currently they may contain 30-40.
The animation/artwork of episodes has gradually changed throughout seasons.
Starting in Season 71 onwards, episode listing would become more simplified for easier editing (especially to new users), and because using templates caused complications.
Ad blocker interference detected!
Wikia is a free-to-use site that makes money from advertising. We have a modified experience for viewers using ad blockers

Wikia is not accessible if you've made further modifications. Remove the custom ad blocker rule(s) and the page will load as expected.