This is a page in a fanon site. For information about this character from the actual show, click here.
Lumpy is a stupid blue moose who is one of the main characters of Happy Tree Friends. He is taller than the other characters and has a unique body structure in comparison. His stupidity usually results in him causing the deaths of many characters, and to a lesser extent, himself.
Trivia
His girlfriend is a moose whose name is Marry.
In fan version episodes, he takes place of The Mole.
Gallery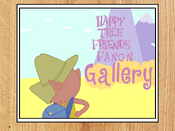 Click here to view this page's gallery.
Source Links
xxxlumpyxxx (deactivated account)
AleEvilSoldier (deactivated account)
Ad blocker interference detected!
Wikia is a free-to-use site that makes money from advertising. We have a modified experience for viewers using ad blockers

Wikia is not accessible if you've made further modifications. Remove the custom ad blocker rule(s) and the page will load as expected.