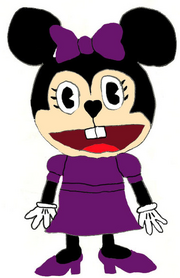 Minnie Mouse is a crossover character.
Personality
Minnie is the girlfriend of Mickey Mouse and best friend of Daisy Duck. She enjoys dinners, movies, and basically spending as much time as possible with Mickey. Overall Minnie is sweet, beautiful and fun-loving but she has moments when anger gets the better of her. Despite this she is never the "bad guy" in the situation. She is one of few friends around Mickey that always have a good reason to be upset. Like Mickey she enjoys travel and on many occasions she plays the role as a "damsel in distress".
She has been described by some characters as feisty being able to speak what she feels no matter the person she's up against which is how she manages to assist Mickey in saving her. She is known for having a motherly side often being the voice of reason in her circle of friends. She is relatively calm during hectic periods and is often the voice of reason.
Minnie Mouse is more than just Mickey's girlfriend, however. Her strong character includes numerous personality traits, and her favorite activities include gardening (both flowers and vegetables), shopping, dancing, and experimenting with new fashions. As a strong but fun female character, Minnie has gathered many fans throughout the world, and they can travel to Disneyland to meet this very well-known heroine.
Species
Mouse
Appearence
Short and slender black mouse.
Cream face
White-spotted dress (of various colours).
Big bow on her head.
Short white bloomers.
Pumps.
Catchphrases
"Oh Mickey"
"Yoo-hoo"
Ad blocker interference detected!
Wikia is a free-to-use site that makes money from advertising. We have a modified experience for viewers using ad blockers

Wikia is not accessible if you've made further modifications. Remove the custom ad blocker rule(s) and the page will load as expected.