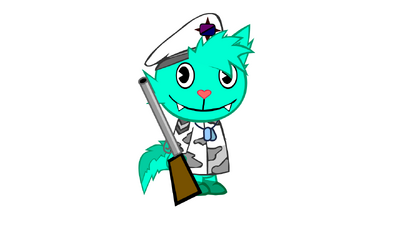 Nikolai is a Blue Dog that is part of the Russian war.
Character Bio
Nikolai is a Russian Blue Wolf that is part of the Black Ops Team.His other teammates are Dempsey, Richtofen, and Takeo.He is the only HTF Character to drink a drug(Vodka), let alone being obsessed with it.He is the most lazy out of all the teammates, and carries a shotgun with him to places that he has never been to before.Not much is known about him, but he is from the russian army, and is friends with Richtofen and Takeo.Dempsey, on the other hand, is too grumpy and angry to befriend.
Trivia
He is the very first Happy Tree Friend Character to have ever dranken Drugs of any sort.
Kills
Cuddles - 1
Giggles - 0
Toothy - 1
Lumpy - 0
Petunia - 0
Handy - 2
Splendid - 0
Sniffles - 0
Pop - 0
Cub - 0
Flaky - 0
Nutty - 0
Lifty - 1
Shifty - 0
The Mole - 0
Disco Bear - 1
Flippy - 0
Russell - 0
Mime - 1
Cro-Marmot - 0
Lammy - 0
Generic Tree Friends - 0
See Also
Ad blocker interference detected!
Wikia is a free-to-use site that makes money from advertising. We have a modified experience for viewers using ad blockers

Wikia is not accessible if you've made further modifications. Remove the custom ad blocker rule(s) and the page will load as expected.