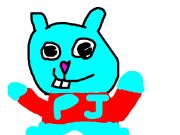 "
Snowflake

A better version of PJ
Information
Name
Snowflake
Gender
Male
Interests
--
Bear
Color
Blue
Relatives
None
Age
Unknown
Size
Medium
Friends/Allies
Superspeed, Ludwig Van Beethoven, Demonpluto X. Smither
Enemies/Rivals
Bulky
Kill Count
Unknown
Death Count
4
First Victim
Unknown
First Death
Unknown
Appearance
PJ is an aqua-blue bear who is usually always seen in his pajamas (hence the name, PJ) and is never seen wearing pants. In his early design, he had a red shirt with the letters "PJ" on it. PJ looks much different then his earlier design. In his new design, he is slightly darker, has mitten hands, pacman eyes, a darker shirt and the PJ logo was removed from his shirt.
Character Bio
PJ is typically a generous character, but was seen trying to kill Bulky in Warriors vs Warriors. Although the age PJ is unknown, it can be assumed he is a child, as he acts very childishly, and often participates in juvenile activities, such as skateboarding and paintball.
Episode List
Starring Roles
Featuring Roles
Appearances Roles
Fates
Seize the Day: Dies when Beethoven attempts to rescue him from a seizure.
Big and Little Brothers: Dies in an explosion
Warriors vs Warriors: Bulky may have killed him with a knife
Eu Te Ammo - shot by Perry and knocked against a tree
Ad blocker interference detected!
Wikia is a free-to-use site that makes money from advertising. We have a modified experience for viewers using ad blockers

Wikia is not accessible if you've made further modifications. Remove the custom ad blocker rule(s) and the page will load as expected.