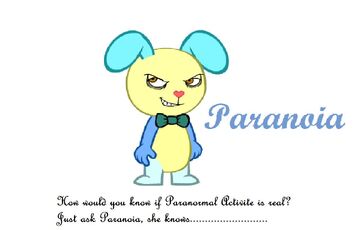 Name: Paranoia
Meaning: Paranormal
Gender: Female
Sexuality: Lesbian
Species: Rabbit/ghost
Fur: Tricolor (yellow, blue)
Job: Killing/scaring people
Likes: Scaring, annoying, and hurting people
Dislikes: When people are happy
Trivia
She was killed in a fire.
She likes girls instead of boys, this is why she is a lesbian.
She is a phantom (ghost, spirit, the paranormal).
Ad blocker interference detected!
Wikia is a free-to-use site that makes money from advertising. We have a modified experience for viewers using ad blockers

Wikia is not accessible if you've made further modifications. Remove the custom ad blocker rule(s) and the page will load as expected.