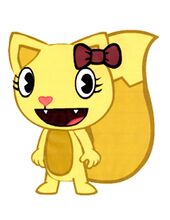 Pia is a yellow fox who likes Dolls, Tea Parties, Talking About Conspiraces, and Candy. She is friends with Sana, Flaky, and Ziggles. She also has a crush on some characters, including Toothy, Disco Bear, Splendid, Trippy, Britton, Nutty, Rip, Torn, and Howdy.
Number of kills
O'Clock - 1 (Treasure Those Idol Moments)
Trivia
Ad blocker interference detected!
Wikia is a free-to-use site that makes money from advertising. We have a modified experience for viewers using ad blockers

Wikia is not accessible if you've made further modifications. Remove the custom ad blocker rule(s) and the page will load as expected.