Scrat
seems to be having some difficulty finding his footing while skating onto a roller rink. After seeing a Generic Tree Friend skate by, however, Scrat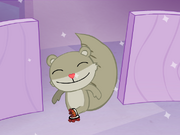 pushes away from the wall and finds a good center of balance.
Suddenly, Karnage skates onto the rink, carelessly knocking Scrat into a floor buffer being pushed by Flicky. Scrat is spun around and his body is worn down from being rubbed on the floor. His fur flies off in all directions and pierce Karnage numerous times, killing him.
The floor buffer starts moving faster, causing Flicky to lose her footing. She gets spun around by the machine, until she loses her grip and flies into a claw vending machine. She seems dazed, but otherwise alright. Unfortunately, Sapphire is standing at the game and she makes the claw puncture Flicky's chest and pull out her heart. Sapphire is, at first, confused, but Flicky's heart starts beating, making Sapphire gasp happily and embrace her prize.
Ad blocker interference detected!
Wikia is a free-to-use site that makes money from advertising. We have a modified experience for viewers using ad blockers

Wikia is not accessible if you've made further modifications. Remove the custom ad blocker rule(s) and the page will load as expected.