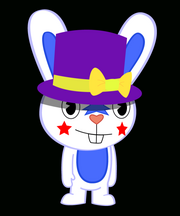 This character was created by DeviantART & Happy Tree Friends social site user Piodx.
Robbie is a fan-made character of Happy Tree Friends.
Character Bio
Robbie is a white rabbit with blue face, belly, and ear markings and red star-like markings on his cheeks. He wears a purple top hat with a yellow bow.
Not much is known about his personality, but judging by information on the HTF social site, he performs magic tricks.
Episodes
Starring Roles
Featuring Roles
​Appearances
Deaths
All Work and No Belay : Crashes into Cheeks, who tried to avoid the remains of Handy, Flaky, and Sniffles.
I Get a Trick out of You : Suffocates due to the smoke emmited from a smokebomb.
Kills
Guddles 1 - (I Get a Trick Out of You)
Trivia
Ad blocker interference detected!
Wikia is a free-to-use site that makes money from advertising. We have a modified experience for viewers using ad blockers

Wikia is not accessible if you've made further modifications. Remove the custom ad blocker rule(s) and the page will load as expected.