Russell's Swashbuckler Smoochie (or Russell's Sloop of War Smoochie) is a fan-made smoochie Starring Russell created by YouTube user Yudhaikeledai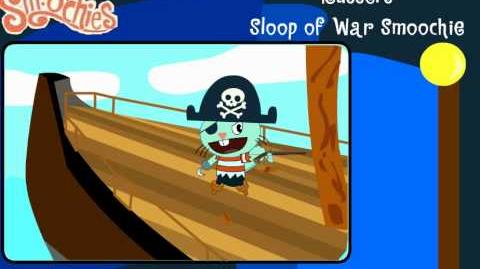 Idle Animations
Russell pulls out a sword and points at the viewer.

Russell pulls out a map and looks through a telescope.
Smoochie Options
1. Sea Angling
Russell is given a fishing rod and casts it out at sea in hopes of catching a fish. Something grabs the hook, and Russell tries to reel it in, almost making him fall off his boat. He reels in a shark, which bites off his head. The shark briefly comes out of the water wearing Russell's hat and using a toothpick to clean his teeth before ascending back into the sea.
2. Swashbuckler
A sword and a gun drop from the sky. Russell uses the sword to slice through a nearby pole, throwing it into the air and then shooting the pole with a gun. The pole falls and ends up crushing Russell. The gun then shoots off Russell's hook and the sword falls back onto the ship and slices off his eye.
3. Broadside Salvo
Russell spies at something with a telescope. Three cannons appear and Russell puts gun powder into each of them. However, he uses up the whole barrel of gun powder for the last cannon. As a result, the cannon explodes and shoots through the air carrying Russell, soon crashing through the ship and causing it to sink.
Trivia
The title in the video read "Russell's Sloop of War Smoochie".
Pirate-like music is heard throughout the smoochie.
Russell's eye is still hanging out of the shark's mouth when it resurfaces.
Russell says "Hey, look!" when he sees something with the telescope.
Russell putting in too much gun powder into the cannon may be a reference to Mime to Five.
Ad blocker interference detected!
Wikia is a free-to-use site that makes money from advertising. We have a modified experience for viewers using ad blockers

Wikia is not accessible if you've made further modifications. Remove the custom ad blocker rule(s) and the page will load as expected.