Not to be confused with Spike, another blue porcupine sometimes reffered to as Flaky's boyfriend.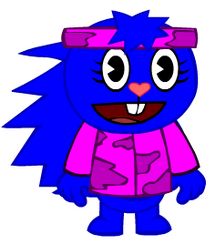 Shuffles is a blue porcupine that wears pink camo clothing. She is an award-winning DJ. She has a wide range of deaths, but they usually involve aircraft, her organs, her limbs, or her head or face.
Starring Roles
Featuring Roles
Appearance Roles
Deaths
Rapped Over the Knuckles: Gets decapitated by a disc.
Once in a Blue Porcupine: Gets hit in the face by Flaky.
Death is a Highway: Gets her optic nerve caught in a tire and has her brain ripped out through her eye socket.
Chopper Logic: Gets shredded by a helicopter's rotors.
The Point of Overturn: Flippy cuts off her limbs and throws her out of the plane.
Wake Up and Smell the Coffee: Survives getting run over by a car only to die in an explosion caused by natural gas.
Starship Altina: Dies when hitted by several Commits from the Sky.
Ebony and Ivory Tusks: Killed by Count Trunkula
Behind the Stage: Semi-decapitated.
Ad blocker interference detected!
Wikia is a free-to-use site that makes money from advertising. We have a modified experience for viewers using ad blockers

Wikia is not accessible if you've made further modifications. Remove the custom ad blocker rule(s) and the page will load as expected.