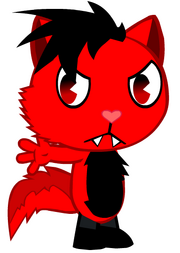 Sinister is a red wolf that has appeared and starred in a few episodes. He has black hair, chest fur, and legs.Sinister is not from any pack, but he tends to try to return to the Slayer pack in a few episodes, as how he acts. It seems as if Sinister was in the Slayer pack, but was suspended from it. He always tries to impress the pack, even if it were to kill someone. He has a lot more kills than deaths. He has a bit of anger issues when things do not go his way. By his name and appearance, he could be based off of Synyster Gates, the guitarist for Avenged Sevenfold.
Bitten Victims
These are all the episodes and tree friends he has been caught biting.In the background of some episodes, you'll will see him biting a person in the neck. This also happens when he stars in episodes.
Ad blocker interference detected!
Wikia is a free-to-use site that makes money from advertising. We have a modified experience for viewers using ad blockers

Wikia is not accessible if you've made further modifications. Remove the custom ad blocker rule(s) and the page will load as expected.