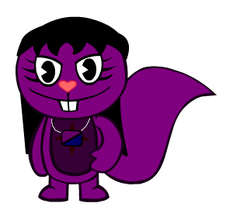 Skunkhare is the descendent of the pet skunk belonging to the Egyptian pharaoh Smenkhare. She wears a necklace, has flowing, black hair, and her deaths often involve pointy things, especially triangular-shaped pointy things, an inside joke on pyramids, or getting her organs ripped out, an inside joke on mummification.
Name Pronunciation
skuhn-KA-ray
Starring Roles
1. Majestic Duty
2. Snow Way, Jose!
Featuring Roles
1. The Mighty Eight
Appearance Roles
1. Brick by Brick
Deaths
1. Majestic Duty: Falls off a pyramid. (debatable)
2. Snow Way, Jose!: Nerves in her chin get spun around on a wheel until her brain comes out of her chin.
3. The Mighty Eight: Gets run over by Flippy while he drives the Mighty Eight.
Trivia
Ad blocker interference detected!
Wikia is a free-to-use site that makes money from advertising. We have a modified experience for viewers using ad blockers

Wikia is not accessible if you've made further modifications. Remove the custom ad blocker rule(s) and the page will load as expected.