For More About Spider-Man Go to Webb Page.
Spider-Man Is A Marvel Superhero In Happy Tree Friends Marvel Universe.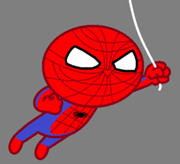 His Abilities:Web Powers
Web Swing,Web Shot,Web Glide,Web Shield and Web Pull.
Powers
Climb The Wall,Punch,Kick And Spider-Sense.
Appearance
The Amazing Spider-Man On The Cinema
More Episode TBA............
Deaths:13 times.
Killing peoples :142 killed.
Kills Peoples
Villans
Mysterio - 10
Hobgoblin - 19
Scorpion -  15
Rhino - 4
Doc Ock - 2
Venom - 59
Lizard - 34
Carnage - 29
Mysterio - 12
Hyrdo Man - 15
Green Goblin - 10
Vulture - 2
Kraven The Hunter - 21
Shocker - 31
Ad blocker interference detected!
Wikia is a free-to-use site that makes money from advertising. We have a modified experience for viewers using ad blockers

Wikia is not accessible if you've made further modifications. Remove the custom ad blocker rule(s) and the page will load as expected.