Spippy is an episode of the Happy Tree Friends internet series.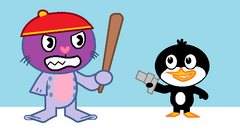 Roles
Starring
Featuring
Plot
Waddles is at a blueprint store, buying blueprints for a "Comebine-a-tron". Waddles looks at the exceptions for using it. It says that if you only use one object, it can't combine with anything and will kill/destroy the object. Waddles laughs evilly as he walks out.
Spot is seen on top of a tree, trying to get a cat out. When Waddles sees him, he tries shooting his completely built combine-a-tron, but misses and shoots the cat, and its blood begins to pour out of its mouth and it suddenly disintegrates.
Waddles gasps and whistles as he walks away. Spot is later seen with Hippy. Waddles doesn't seem to notice Hippy and shoots. Suddenly, Hippy and Spot have combined with each other! Spot has his usual body parts-but with Hippy's colors.
Waddles looks sheepishly as Spippy (the combination of Spot and Hippy) looks on, madly. Spippy yells at Waddles, telling him to reverse. Apparently, oblivious to Waddles, the machine was set to reverse already and he changes it to combine, causing Spot and Hippy to die.
The combine-a-tron runs out of battery. When he tries to shoot himself to commit suicide, he continously tries shooting, but it won't work. Suddenly, the machine explodes, leaving only small legs.
Sniffles looks on as blood pours out of the small legs, and he gets freaked out.
Moral
"Combining your favorite subjects makes it the best!"
Deaths
A cat is disintegrated.
Spot and Hippy die when their combined self is shot with the combine-a-tron.
Waddles dies when the combine-a-tron explodes.
Trivia
This is the first time two (or more) characters are combined.
This is also the first time Waddles dies.
This is one of the few times where the starring characters die but the featuring characters survive.
Ad blocker interference detected!
Wikia is a free-to-use site that makes money from advertising. We have a modified experience for viewers using ad blockers

Wikia is not accessible if you've made further modifications. Remove the custom ad blocker rule(s) and the page will load as expected.