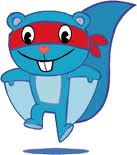 This is a page in a fanon site. For information about this character from the actual show, click here.
Splendid is The Town's superhero.
There is no knowing where or when Splendid was born. Rumors say that he was born on a hillside, where he mysteriously gained his super powers. He now spends his days saving people from the town but rarely, if ever, succeeds, as he unintentionally kills the people he rescues.
Relationships
Trivia
He has recently led the job of HTF Town superhero up to Splendont who left the town right away.
The character that he usually ends up rescuing is Giggles.
He has a girlfriend who is also a superhero named Deeka.
Splendid only died twice in the canon series. However, in the fanon series, he seems to die more often.
Fan-Considered Theme Songs
Hero by Skillet.
Kryptonite by Three Doors Down.
Any super hero-themed background music.
Hero by Papaya.
Superluv by Shane Dawson
Houdini by Foster The People
Gallery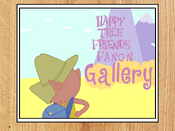 Click here to view this page's gallery.
Source Links
AleEvilSoldier (deactivated account)
ikemmystroke (deactivated account)
Ad blocker interference detected!
Wikia is a free-to-use site that makes money from advertising. We have a modified experience for viewers using ad blockers

Wikia is not accessible if you've made further modifications. Remove the custom ad blocker rule(s) and the page will load as expected.