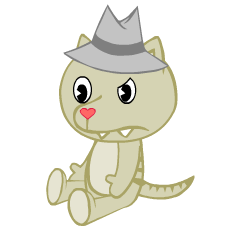 Stripes
is a character from
Aussie Outback Friends
.
Character Bio
Stripes is a thylacine (Tasmanian tiger) who wears a grey fedora. He is supposedly the last of his species, and because of this, he is constantly hiding from hunters. He is seldom seen with other characters.
He never reveals himself to other characters, and wears a disguise when in public. In appearance roles, he makes small cameos.
Stripes is usually gloomy because he feels very lonely. Sometimes he tries to look for other surviving thylacines. Occasional episodes reveal other thylacine characters (Out of Outback, Thyla-scene Investigation).
Episodes
Starring Roles
Featuring Roles
Appearances / Cameos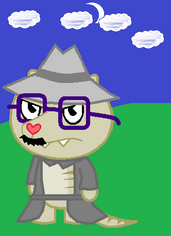 Deaths
Going Bear-Foot - Mauled by a bear.

Thyla-scene Investigation - Shot by Dingo.
Drought and About - It can be assumed he drowns like most of the other characters.
Mind The Surf - Drowned by a tidal wave.
A Spine Day - Eaten by crocodiles (Debatable)
Kill count
Sheila - 1 ("Photo Stop")
Sheldon - 1 ("Photo Stop")
Platto - 1 ("Thyla-scene Investigation")
Others - 1 (shadowed character in "Photo Stop")
Trivia
His species, the thylacine, is a meat-eating marsupial now believed to be extinct. It is a subject of cryptozoology due to hundreds of sightings of the creature from people who claim it is still alive.
His cameos are similar to Truffles' cameos.
As shown in Photo Stop and Thyla-scene Investigation, he can flip out from camera flashes.
He is the last AOF character to have died.