Tazzy
is a character from
Aussie Outback Friends
.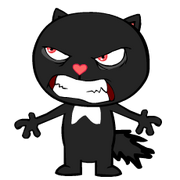 Character Bio
Tazzy is a black tasmanian devil. Normally he is a friendly character and, like other Tassie devils, loves to eat meat. However, he hates vegetables with a passion.
Whenever a character gets hurt, or if he tastes vegetables, he will snap and turn into an outright ferocious carnivore, eating anyone nearby.
Episodes
Starring roles
Featuring roles
Appearances
Outside AOF
Deaths
I've Machine That Before - Eats Joey's poisoned body.
Drought and About - Drowns in flood.
Aussie Outback Fan, Part 2 - Hit by crutch.
Injuries
Kickboxing it Old School - Bitten by a venomous snake and punched/tossed in the air.
Outback Fire - Cut by Flippy's umbrella.
Kill Count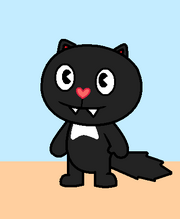 Trivia
Ad blocker interference detected!
Wikia is a free-to-use site that makes money from advertising. We have a modified experience for viewers using ad blockers

Wikia is not accessible if you've made further modifications. Remove the custom ad blocker rule(s) and the page will load as expected.