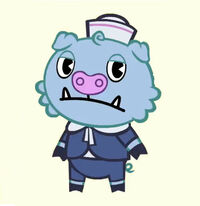 This is a page in a fanon site. For information about this character from the actual show, click here.
Truffles is a blue pig/boar who wasn't chosen to be the new main character in the Vote or Die character contest. He lost to Lammy and Mr. Pickles. But he still makes cameo appearances in some episodes.
While he hasn't been formally introduced, the creators have described him as a brat who is always trying to one up.
Trivia
It was theorized that he might be introduced as a main character in a future episode. The creators debunked this theory, stating that they won't do anything big with him so as to honor the spirit of Vote or Die.
He is one of three main characters without the usual HTF nose, along with Lumpy and Sniffles. His nose is heart-shaped, however it is larger, more rounded, purplish and has nostrils.
He is jealous of Lammy because she won the Vote or Die contest.
Some people think he is a stalker because of his cameo appearances.
Gallery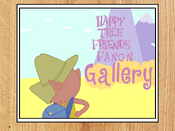 Click here to view this page's gallery.
Ad blocker interference detected!
Wikia is a free-to-use site that makes money from advertising. We have a modified experience for viewers using ad blockers

Wikia is not accessible if you've made further modifications. Remove the custom ad blocker rule(s) and the page will load as expected.