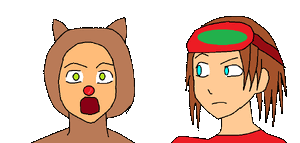 (Message from Superspeed & Britton)
Wow guys! It's been an entire year since the last newsletter! Well, let's start it back up! Better than ever! Below are special shout outs, upcoming events, news, discussions, and much more! Be sure to read over all of it! And Britton and I hope you all have a very Merry Christmas!
Recently, there was an issue (that is now resolved) about users "necro-posting". What is necro-posting? Necro-posting is when a user brings up/comments on previous, dead topics that have been resolved. One of our very lovely admins, Brittonbubba, opened up a topic to end this whole necro-posting fiasco. He opened up a Proposal to end necro-posting and make it an official rule (can be viewed here). The rule was officially passed and necro-posting is now prohibited.

In the past 2 months, we have received three new additions to the administration team. SwedishSans was promoted to Bureaucrat, 1MsyeriousEnigma was promoted to chat moderator, and User:Deadlydark was just recently promoted to admin earlier this week! While at the same time, we have lost 3 admins at the same time. It's shame they had to go, but we have 3 fresh faces for our wiki!

On the wiki, there was recently a community meeting about things that we change to make the wiki better. We decided to monitor the chat more often and be more strict on the rules. To some users, this may be seen as a drag, but too many pointless problems have erupted in the chat room. This is the only option. We also decided on more activities and things to do. This wiki is great, but it's going to need some things to really make it "shine"! If you have a game/activity, please comment it below! And finally, an admin task list. This one is exclusively for the admins to do, just so we can get this place cleaned up. Please keep in mind, if you personally disagree with any of these things, feel free to comment below and tell us how ya' feel!

You heard that right! One of our favorite admins announced his return to the wiki! About a week ago (please don't rap the song), Aiden announced that he would not be returning to the wiki due to personal problems. He has since returned and now goes under the username, SwedishSans. He got his rights back and everything! Glad that you're back Aiden! We truly did miss you!

Congratulations to User:Lord O' Darkness for winning the Featured User of December and the final Featured User of 2015! You're Featured User page will be added on the first of December and your icon will be uploaded under the Featured User module! Not only that, but Lord O' Darkness broke a record for the most votes EVER in all the Featured User polls. Great job!
Ad blocker interference detected!
Wikia is a free-to-use site that makes money from advertising. We have a modified experience for viewers using ad blockers

Wikia is not accessible if you've made further modifications. Remove the custom ad blocker rule(s) and the page will load as expected.