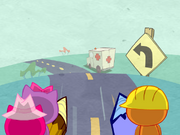 It's a nice, sunny day at the races for
Wooly
,
The Beaver
, and
Liftelle and Shiftette
, but Liftelle and Shiftette aren't ready. Their kart has no wheels and the race is about to start. Luckily, the sisters have an idea. The flag waves, and they're off, except for Wooly, who has seems to have lost his wheels. To make matters worse, a small explosion covers Wooly from head to toe in soot.
As The Beaver and the sisters speed down the road, the first turn arrives, only for Liftelle and Shiftette to realize they have no steering wheel. The Beaver laughs at the pair's misfortune, but, as he is laughing, the two steal her steering wheel. When The Beaver realizes what has happened, she gives her trademark frustrated look. While they make the turn, The Beaver slams into a parked ambulance and is cut in half when her kart runs underneath. Her intestines fall out of her severed upper half.
Liftelle and Shiftette can see the finish line, tasting victory. As luck would have it, however, all four of their wheels fly off, causing their kart to fall on its side. As the kart continues sliding forward, Liftelle and Shiftette's heads are dragged along the asphalt. Finally, their kart comes to a stop, just missing the finish line. Wooly suddenly appears, sliding along in his wheeless, burned kart, claiming victory and leaving Liftelle and Shiftette in his dust.
Ad blocker interference detected!
Wikia is a free-to-use site that makes money from advertising. We have a modified experience for viewers using ad blockers

Wikia is not accessible if you've made further modifications. Remove the custom ad blocker rule(s) and the page will load as expected.